ADVENTURE MEETS RELAXATION
Kultured Travels introduces the Haiti Discovery Tour. Four days filled with adventures, learning, discovery and exploration. From sailing away to hidden islands to climbing the famous Citadelle, the discovery experience brings out the side of Haiti that you've never seen before. The tour includes an opportunity to experience adventure, friendship, beach life and culture. The Discovery Tour includes 5 star accommodations, many EXCURSIONS, and much more. Join us for the off the beaten path adventures in Cap-Haïtien in January 2020
Board your flight to Cap-Haitien, Haiti. Plan to arrive before 3 p.m. to check into our superb newly built hotel accommodation with a breathtaking view of the city that is only 30 mins away from Labadee. Get situated, relax and start getting ready for our welcome dinner, get to know one another, mingle and network. After a culturally flavored meal, Our private professional photographer will be there to document, so dress to impress. The restaurant is also a live-bar, dance the night away and enjoy yourself.
Upon enjoying our complimentary breakfast, we will hit the road and head to the Citadelle Laferrière, one of the largest fortresses in the Americas. Designated by the UNESCO as a World Heritage Site, the Citadelle will be unlike any forts you've ever seen, prepare yourself because you will be in for a treat. Given the location of the Citadelle, we will be horseback riding our way through this mountaintop wonder. Enjoy the natural surroundings, and beautiful panoramas. Nature lovers have plenty of time to take in the sights. When we return from the Citadelle we will then head to Palais Sans Soucis, explore a rum distillery and many more. Explore the downtown Cap-Haitien and absorb all that this beautiful city has to offer.
After enjoying your breakfast, hop into our yacht to go visit Haiti's coastline along with some inhabited small islands, enjoy the food and drinks provided on the boat and get lost in the clear blue warm tropical water. Upon our return from our private yacht getaway, indulge in some more Haiti's mouth watering gastronomy, and relax like never before. The night is young and there will still be plenty to do, mingle and create long lasting memories.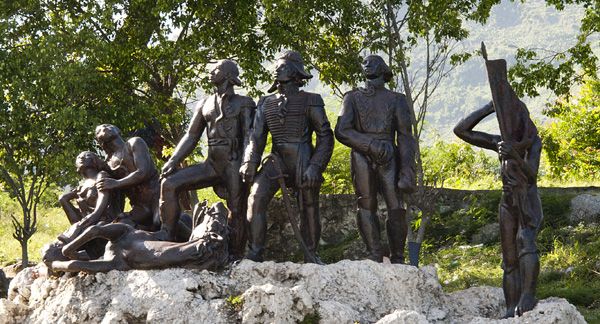 After our wonderful breakfast we get to embark on a city tour and explore everything that the beautiful city has to offer and the history behind some monuments and buildings. Later this afternoon, we relax through a complimentary spa treatment (Haitian Style).
Today we depart Haiti. Our driver will whisk you away and make sure you arrive to the airport for your flight back home, with memories of your time on the island fresh in your mind.Enjoy your last day at the resort, have a safe trip and see you soon.
pricing - payments- disclaimer-important info
All ground transportations
Airport shuttle transfers from/to (CAP) airport in Haiti
4 Days 3 nights at a beautiful hotel overlooking the city
Multi lingual guides speaking (French, English, Creole)
Unlimited breakfast, 2 lunches and 2 dinners
Tours
Boat excursions
Professional photographer on board for HD quality photos (Bring your best outfits)
Horseback riding
Citadelle entrance fee
Visit of small inhabited Island
Boat Sailing
Free Wifi at the resort
International Flight from Home country to Cap-Haitien, Haiti
MANDATORY Intl/Travel medical insurance ( Buy Here )
Passport & Visa fees (If Applicable)
Haiti Airport Tourism Tax ($10)
Tips and gratuities to resort staffs ($40 approx)
Some lunches and dinners
Additional tours and excursions not included package
Double Occupancy (you will have a roommate) - 1300 (if paid in full)
Single Occupancy (you have your own room) - $1,500 (if paid in full)
WHAT OUR PAST HAITI VISITERS HAD TO SAY
"I had the opportunity of traveling with Kultured Travels for there first trip to Haiti. It was such an awesome experience, where I was able to learn the history of Haiti and also take in the beauty that isn't shown to the world. I only knew one person from the group, but I must say everyone was friendly, we got along so well that we were able to start communicating by just looking at one another. The food Oh The food was absolutely AMAZING!!! Kabrittttttttt is all you heard from me when it was time to eat.
I must commend the Creator Sabrina for creating such an inclusive and safe travel experience. I highly suggest giving Kultured Travels, this definitely won't be my last.
If you have friends that never want to travel with you, this is the tour guide for you, forget your flakey friends and go TRAVEL!!!.. Life is way too short"
"What an experience Kultured Travels provides! I have been able to go on 2 trips so far with the company (Haiti & Cuba). I am always amazed as to the activities, hotel stays, food and CULTURE experiences they provide for their customers. One of kind experience, being able to be informed about the history of the locations and feeling like you're on vacation at the same time is something I believe they've excelled at. Looking forward to the next one!"
"I went on the Haiti trip in April & Kultured Travel provided a completely balanced experience. There was exposure to history & culture, relaxation on a private island, amazing food, wonderful accommodations, and wonderful lively people. It was money well spent!
There were so many highlights and it was great to enjoy a well curated trip with a gracious host and well informed guides. I learned so much about subjects I already thought I was well versed on.
The hotel in Cap Haitien was amazing. As was the food! Ile a Rat aka Amiga Island was breath taking and serene.
It was also great to be able to travel with complete strangers who ended up becoming friends!"
THIS TRIP ISN'T FOR EVERYONE.
Understand that Haiti is a developing country, local standards are not the same as the USA.
IT IS FOR YOU IF:
You are open-minded

You enjoy eating, walking and off-the-beaten-path ideas.

You love to have a great time and are open to meeting others and accept the different personalities you will encounter.
THIS TRIP IS NOT FOR YOU IF:
You have a tendency to bring first world expectations with you everywhere.

You have a tendency to be negative or dramatic or are just plain depressing to be around.

You're not into trying new things or stepping outside of your comfort zone.

You don't like Haitian food. That is what we'll be eating. Every day.

You have very specific and particular travel preferences and tend to criticise everything around you.

You can't easily walk up stairs. If you find walking tough, then this trip isn't suited to you.

You are looking for luxury. Haitian standards are not the same as it is in the U.S keep an open mind and you will have a great time!
**IMPORTANT INFORMATION**
Please read carefully
Flight
Please book your flight to Cap-Haitien, Haiti (CAP) airport be sure to arrive by 4pm on January 10 2020.
1) There are only 2 airlines that have direct flights to Cap-Haitien, American Airlines (departs from Miami) and Spirit Airlines (depart from Fort-Lauderdale).
2) The third option would be to fly to Port-au-Prince and take a local flight with Sunrise Airways to Cap-Haitien. But keep in mind that the local flight from Port-au-Prince to Cap-Haitien, departs from a small local airport ( Guy Malary Airport) located next to the international PAP airport. So you will need to get out of the PAP airport take a cab to Guy Malary airport to board your local flight with Sunrise Airways.
General Info
Rooms are double occupancy with 2 beds (unless selected otherwise). If you don't already have a roommate, you will be paired with one. Your water pressure might not be like what you're used to, BRING POTENT INSECT REPELLENT and leave all first world expectations behind and you will have a fabulous time!
All activities and meals are done as a group, choosing to opt out of an activity or group dinner, you automatically become responsible for your own expenses.
tips and gratuities
Citadelle : Plan to contribute $5-10 as tip for your guide at the Citadelle.
Please budget approximately $30 to leave as tips, it is a recommendation, not an obligation but keep in mind that the people on the ground work very hard to make your experience unforgettable. All gratuity funds will be collected after guided tours and at the end of the trip.
Food
Please understand that we will be in Haiti and we will be consuming Haitian food and breakfast will not be your typical american breakfast. Also Haitian dishes are highly seasoned with a variety of herbs and spices, and may be considered spicy for some. Please mention all known allergies when booking your package.
warning
This trip involves strenuous activities that may be difficult for some, (climbing to the Citadelle, climbing stairs, getting in and out of boats and walking, and much more). Please decide and plan accordingly. We are riding horses to the Citadelle, but if you do not want your horse, hiking is the alternative.
Travel Terms & Condition
Please review the booking terms and frequently asked questions section before booking a package.
RESERVE YOUR SPOT - HAITI TOUR